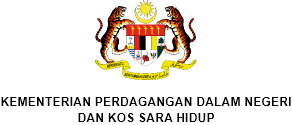 CHEAP SALES NOTICE SYSTEM
No.

Item

2019

2020

1

Number of Cheap Sales Allowed in A Year

The total number of sales at cheap sale price allowed shall not exceed 4 times in any calendar year of which:

(a) 3 times shall be determined by the Controller; and

(b) remaining quota at the choice of the applicant.

There is no limit of cheap sale per calendar year, as long as the cheap sale notice is submitted 1 day in advance in the system.

2

Submission of Cheap Sale Notice Application

14 days before the 1st day of the sale.

Submission is exempted for sale period less than 3 days. Beyond 3 days, notice must be submitted 1 day before 1st day of the sale.

3

Display of Cheap Sale Notice

Notice must be displayed throughout the sale period.

Notice is not necessarily displayed, but to be kept in the premises.

4

Number of Items on Sale

Minimum 50% from total items in the premises are on sale.

Not applicable.

5

Cheap Sale Advertisement

Cheap Sale Application Number, Cheap Sale Period and Ministry Logo must be included in the advertisement.

Only Cheap Sale Period is stated in the advertisement.

6

Sale Record

Maintain true & accurate record of cheap sale price for the last 6 months in the premise.

Status quo.

7

Sale Period

30 days at best, except gazetted sales.

31 days in a row. Traders who wish to have cheap sale more than 31 days must offer cheaper price for goods were previously supplied (of the same description in the same premises).

8

Indication of Price

Premise shall indicate the base price (before discount) and discounted price (after discount).

Base price is based on the lowest price that is offered by the company/ business within the last 3 month for 28 subsequent days.

Status quo.

Base price is based on the latest normal priced items which were offered in the previous cheap sale.

9

Minimum Discount

Minimum 10% cheaper compared to previous price.

Not applicable.

10

Cheap Sale Stock

Maintain a reasonable stock of goods for such purpose.

Status quo.

11

Misleading Cheap Sale Information

Not applicable.

Any false or misleading statement in any cheap sale advertisement is held responsible under Trade Descriptions (Cheap Sale Price) (Amendment) Regulations 2019.
Clik here to to view the detailed amendment of Trade Descriptions (Cheap Sale Price) Regulation 2019.